"I was born and raised in a small small town, just couldn't get out..." - Like A Child

The road to NEWSPEAK was a long way for Max: growing up in a steadily rising indie folk-rock scene in the rural area of Cologne, Germany, with local acts such as Tom Allan and Mario Nyéky, Max released his first 3 song Demo EP Tas Phania in 2013. His childhood friend Phil – who also plays drums on Meant To Be – introduced Max then to the producer Wolfgang Feder, who is an established household name in the acoustic audiophile scene with acts like Richard Bargel.

After producing first demos of Behind The Sun – which can be found filmed on Youtube – Wolfgang realized that Max was looking for a more punchy rock sound. So, they ended up that Wolfgang would do the mastering of NEWSPEAK and provide Max with constant feedback. Max released 1st demos of his record in 2017 to reach out for local feedback and to found a band around his songs. He ended up with Lisa-Marie Bruynen on drums and Marco Kazmierczak on bass and together they played fierce shows at local clubs such as Blue Shell, MTC – both in Cologne - and Druckluft in Oberhausen.

NEWSPEAK was then released by Ditto Music on the 25th March 2018. Except Meant To Be, Max played on this record all instruments and also did the mixing and recording job. Though it's heavily influenced by late 80ies songwriters and acts like Tom Petty, Guns N' Roses and Neil Young, it has also modern influences from the Philly indie scene like Kurt Vile or british songwriters such as Ed Sheeran and Richard Ashcroft.

Currently I'm planning to record an acoustic EP, which will be first uploaded here on Bandcamp. I try to constantly drop media like videos and music here. I thank everyone who supports my music career and enjoys my music! Music is my life and to make living of it would be my dream.
Here's what you get:
All the new music I make

streaming instantly on your mobile device via the free Bandcamp app, and also available as a high-quality download.*

These back-catalog releases:
A 15% discount on all my merchandise.
The satisfaction of knowing you're supporting me in a sustainable way.
You're a subscriber
Thank you!
* Downloads are DRM-free and available in MP3, FLAC and
more
.
Max Goedecke
Cologne, Germany
Born in the 90ies in Germany, Max is a generation y multi-instrumentalist and songwriter who spent too much time with the record collection of his daddy in his childhood: from the grungy WELD sounds of Neil Young & Crazy Horse to the art rock classics of Guns N' Roses Use Your Illusions albums, there is not much I left out to get my own stamp on my guitar playing.
Latest Release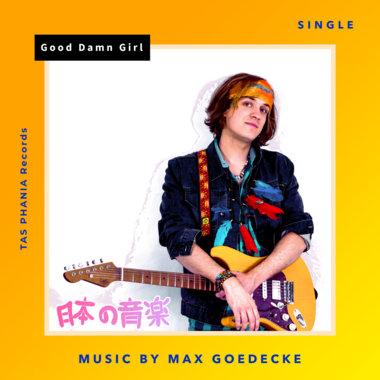 Good Damn Girl